Although only becoming known in the West over the last 30 years, the Cordycep mushroom strains have been used in Chinese medicine for centuries. Before artificial fertilisation they were only found growing from the carcasses of dead insects at high altitudes. Today its many uses are being widely recognised making the Cordycep mushroom a highly valuable nutrient in your diet.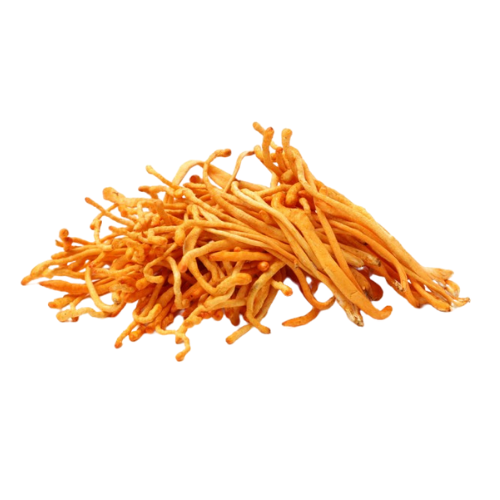 " As time passes, we may find that this once rare fungal species may hold the key to controlling some of our more difficult-to-manage diseases"
- John Holliday & Matt Cleaver Aloha Medicinals Inc
cordycep taking you the extra mile
Villagers living in the high mountains of Tibet claimed consuming the Cordyceps mushroom gave them increased endurance at high altitude. A scientific study backed this up when in a placebo-controlled clinical study of elderly patients with chronic fatigue, results indicated that most of the subjects treated with C. sinensis reported a significant clinical improvement in the areas of fatigue, cold intolerance, dizziness, frequent nocturia, tinnitus, hyposexuality, and amnesia, whereas no improvement was reported in the placebo group.
As research emerges on the effects of Cordyceps on heart health, the benefits of the fungi are becoming increasingly apparent. Cordyceps are approved in China for the treatment of arrhythmia, a condition in which the heartbeat is too slow, too fast or irregular.
A study found that Cordyceps significantly reduced heart injuries in rats with chronic kidney disease. Injuries to the heart from chronic kidney disease are thought to increase the risk of heart failure, so reducing these injuries may help avoid this outcome.
The researchers attributed these findings to the Adenosine content of Cordyceps. Adenosine is a naturally occurring compound that has heart-protective effects.
Scientists believe that due to its antioxidant properties fighting against cell damage that Cordyceps can in fact help with ageing.
Several studies have in fact found that Cordyceps can prolong signs of ageing and increase libido.
source: https://pubmed.ncbi.nlm.nih.gov/25529054/
*These statements have not been evaluated by the TGA and FDA. This product is not intended to diagnose, treat, cure or prevent any disease.