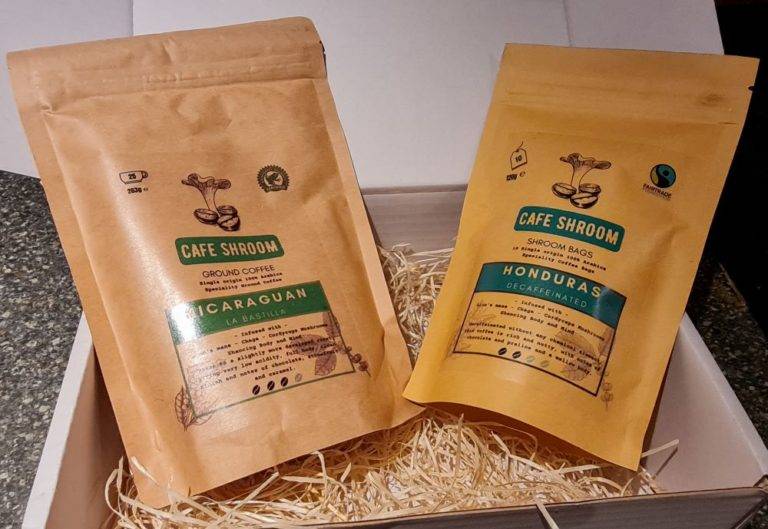 As an avid coffee drinker, with more than a passing interest in leading a healthy lifestyle, I was intrigued by mushroom coffee. It was first brewed in Finland in 2017, and the idea caught on and spread quickly around the world. However, while most brands concentrated on instant coffee, UK based Cafe Shroom has perfected organic ground mushroom blends.
Café Shroom's ground mushroom coffee features speciality 100% Arabica coffee beans mixed with nutrient-dense extracts of lion's mane, cordyceps and chaga mushrooms. Lion's mane and cordyceps are thought to enhance body and mind and chaga mushrooms have been linked to a healthy immune system.
For the last three weeks, I've been trying their Nicaraguan ground coffee using a cafetiere (French press)
On the back of the pouch are simple, easily followed instructions for use, with recommended amounts (one tablespoon of ground coffee per cup) for the perfect cup of coffee. On opening the easily re-sealable pouch, I was greeted with an amazing explosion of coffee aroma, further enhancing the feel of quality to the product (so much so even my partner, a staunch tea drinker, insisted on having a cup!)
The use of a tablespoon to measure out the coffee was reasonably straightforward, and the cafetiere made the whole process not only simple but strangely satisfying! For the more dedicated coffee enthusiast, it's also suitable for use with a cone-shaped V60 coffee dripper.
Once brewed the resulting cup of coffee didn't disappoint. I tried it with and without a dash of milk, and as claimed on the packaging, the taste was full-bodied with delicious notes of chocolate and caramel. The similarities with regular ground coffee were surprising, no real taste or smell of mushrooms being present, although there was a mild 'earthy' aftertaste.
Even if you're not a fan of mushrooms, you'll likely enjoy it, which is quite an achievement! (A friend who initially grimaced at the thought of mushroom coffee declared it to be 'Fabulous!')
There's no denying the quality of the coffee beans used, both in strength and flavour. Previously, with regular ground coffee, I've had some stomach discomfort after three cups, but (as stated on the packaging) this product is of relatively low acidity. This time, I experienced no such symptoms, even after four or five cups.
Aside from the expected 'pick me up' of the coffee itself, I have been aware of feeling slightly more 'with it' after, but this could be down to anything. However, what was noticeable was that there was none of the usual 'coffee come-down' later in the day!
Cafe Shroom's ground mushroom coffee provides a delicious way to get the benefits offered by lion's mane, cordyceps and chaga. It's 100% organic and suitable for vegans. It provides a caffeine kick without the stomach upset or the crashing come-down afterwards. It's pricy compared to regular coffee, but when you factor in all the added mushroom nutrients, it's a bargain.